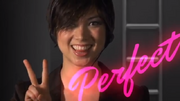 Cecilia is an employee of Bear Stearns who presented the performance awards, and narrates parts of the game. The same actress who plays her also appeared in How to Pronounce Horse ebooks, though it is unclear whether or not they are the same characters.
At the close of one of the New Beginning Ending:
This is the world we're in, and this is what is happening. You have to concentrate to notice, but we're living in our own past. No one is writing anything, and everyday is the same.
Peace be to the saints, and may the Stars forgive us all.
At the close of the Second Impact preview ending[2]:
Personal transformation can occur when it's least expected. Even in times of loss, we fight with a smile. Steel cuts velvet in the Senate dome, broadcasting a new secret on an old frequency. Friends become lovers, lovers become superlovers. A driving glove on the left hand, and a boxing glove on the right. Two coffees; make 'em hot. Skycraper politics, dangerous dancemoves, mutually-assured seduction. A tower. A lantern ... ceremony. Join us for Third Impact: Gigabyte Tomohawk.
Cecilia is played by Mia Van Der Water[3]
Cecilia only ever wears all black or all white clothing.
Community content is available under
CC-BY-SA
unless otherwise noted.