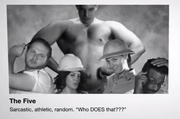 The Five Gurus, a.k.a. The Five, are a mysterious group of characters appearing in Bear Stearns Bravo, Horse eBooks & Pronunciation Book. They also appeared individually in the Bravospam art exhibit, on 9/24.
#3 is a library patron at the LA Public Library, and can be spoken to there in Second Impact.
#2 can be spoken to at Bertrand's exhibition in Second Impact, where she will give a second opinion on the art present; she admits, however, that she hates good art.
#5 can be met, but not interacted with, in the elevator scene in BSB.
The Five Gurus are played by the following actors:
Each of the actors who played the Five Gurus (bar Goldwyn, #5) played the stars of the Sexual Harassment Video by Rocko di Pietro.
A book in the library makes mention of "five gurus", a reference to The Five.
Speculation
Edit
The career science card, "the Five Friends", may somehow relate to the five, as they are--naturally--five friends.
There may be other gurus than these five, as Glyph implies he is one in the Desert Ending[3]
References
Edit
Community content is available under
CC-BY-SA
unless otherwise noted.