renunciationbook (or rb) is a YouTube channel created 11th May, 2011.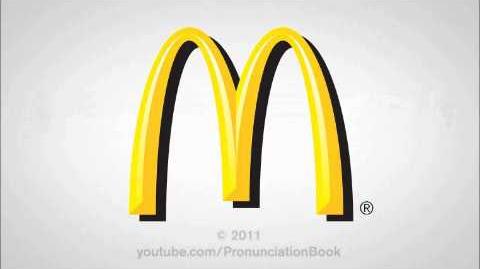 renunciationBook has only 1 video, How to Pronounce McDonald's Glyph (uploaded the same day the channel was). The video description is, "This video shows you how to pronounce the Mcdonald's glyph. Learn the correct American English pronunciation of the rune". However, contrary to the name and description, the video simply consist of a distorted voice saying what sounds like "darkness" on loop with creepy music playing in the background.
Relation to PB
Edit
It is unknown whether it is affiliated with Pronunciation Book. Though the channel & its video are superficially similar to PB, rb's video is much more overtly menacing than any of PB's videos have ever been. Furthermore, the content of PB's videos have always matched the titles and descriptions, whilst the title and description for rb's lone video seem intentionally misleading. A link to PB is, however, given in the background picture, so it is possible that this channel is intended for viral advertising for PB (and so could have been set up by the owner of PB).
The video about McDonalds of renunciationbook was uploaded on 05/11/2011. The same day PB, uploaded a video for the pronunciation of TAG Heuer (a Swiss luxury watchmaker). Searching google for "tag heuer mcdonalds" brings up the following link: http://us.tagheuer.com/en/store/united-states/iowa/iowa-city/mcdonald-optical, which is the website TAG Heuer company shop, named "McDonald Optical". The website contains information about the address and the phone, though neither of these avenues of potential investigation are known to have been pursued at this time.
For some reason, rb's official channel name--renunciationbook--always appears as a single lower case word on its official home page.
The channel creation & video upload date come one day after May 10th, on which it is known that "something terrible happened"[1].
The title of rb's lone video contains the word glyph; Glyph is a known character from PB.
PB pronounces "Glyph" (9/3/11), "Darkness"(10/4/11), and "McDonald's,"(2/19/12) after this video is posted (5/11/11).
It is worth noting that not only is the initial "r" renunciationbook's name not capitalised, but the channel icon (which is situated directly to the left of YouTube channel names) is a capital P. Combined with the channel name, this would give "Prenunciationbook". "Prenunciation" is an obsolete word in the English language, meaning "the act of announcing or proclaiming beforehand"[2].
External Links
Edit
References
Edit
Community content is available under
CC-BY-SA
unless otherwise noted.