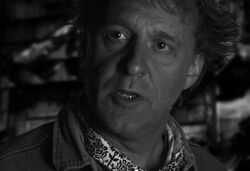 Rocko di Pietro is an artist. The player never gets to talk to him, but he can be seen in several places:
Rocko is a very versatile artist, specializing in many branches of art but with a focus on financial art; he relies heavily on mortgages in his work. He has created various art pieces, among them:
Harassment In Your Office Or School (Video)
The Revolving States of Praxis (Mortgages, 35mm film)
The Legend Of The Vortex Mortgage (Oil on canvas)
Something's Fishy (With Our Financial System) (Mortgage, glass, plastic, water, gravel (coloured), Betta splendens)
Fung-Wa Frenzy (Interactive video installation)—derided by critics as "unpalatable"[1].
What Time Is It? It's Time To Wake Up (And Open Up Your Eyes) (Mortgages, acrylic)
Elephant Skeleton (Mortgages)
Verizon Hub Commercial (Video)
Community content is available under
CC-BY-SA
unless otherwise noted.